Interested in this product?
Send Request for Quotation
OUT OF STOCK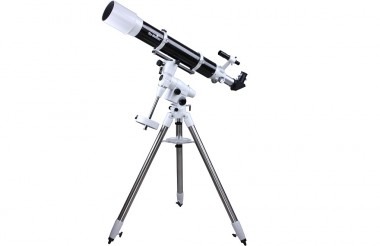 T
his is the biggest refractor with affordable price tag. It is suitable for those who wish to upgrade from a smaller refractor such as 80mm. With 120mm diameter lens, many galaxies can be seen as well as fine details on planets and the Moon.
Diameter/Aperture: 120mm
- Focal Length: 1000mm
- Multi-coated achromatic lens
- Aluminum tube
- Dew cap/Sunshade
- Adjustable Objective-lens Cell
- Red-dot finder
- Permits 38% more light than 102mm
- Big 120mm aperture ensures high-contrast and crisp image
- Smooth rack-and-pinion 2" focuser with a 1.25" adapter,
accepting both 1.25" and 2" eyepieces
- Ideal for high-power study of the moon and planets
(Limited time only - while stock lasts)
* FREE !!! Shipping within Peninsular Malaysia. Will be shipped usually within 24 hours upon receipt of payment.
Copyright © 2008 Perseid Sdn Bhd.By Trilobyte